Astra Life Buddies
Astralife is a company engaged in insurance. This application allows users to easily purchase an AstraLife policy. Buddies app is the new to plan for the future with a choice of fast-food insurance that makes users happy. Buddies users now can get the Buddies code easily just by register, and then they can spread in exchange for obtaining great benefits. Buddies user can collect point as much as possible to add money in the form of cash snacks that can to use with your closest Buddies.
"Because the Buddies believe, the future needs to be seriously planned, but the process must be in a fun way!"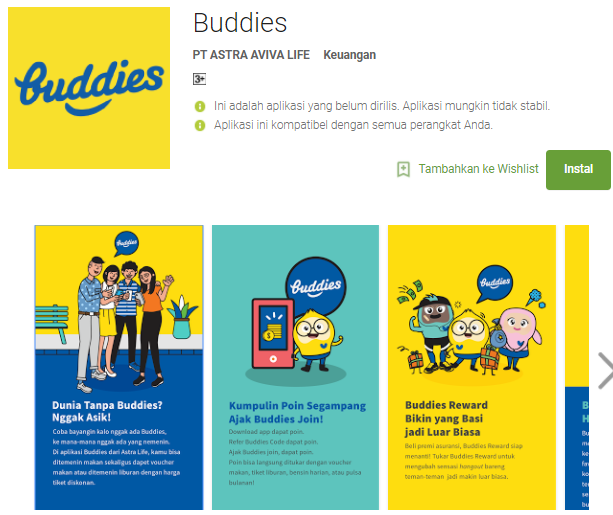 Fishtron
FISHTRON is an automated fish culture technology based on the Internet of Things (IoT) system that helps fish farmers by using automatic feeding, realtime water quality monitoring, and is able to help manage their fishery business digitally

Simbah
Simbah is a dedicated Android app for farmers and focuses on 2 things :
Productivity – Creating productive, independent and prosperous farmers
AMCC Presensi
This app is used to perform on any AMCC (Amikom Computer Club) regular training agenda. This app has several features :
Scanning QrCode member
Data member
Presence data in Graph, Attendance and detail of the subject in each training
QrCode generator (to generate NIM of member to Qrcode image file)
export presence data to excel
Destission
This app is created to help people to find the right tourist destinations, accurate, and in accordance with their wishes. Taking into account the destination city, category, and also rating from other users. And also this application can be used to share tourist places in the area of the unexplored user so as to improve the economy of the area.


Al-Munawwir
MT "Al-Munawwir" invites teens and Muslims to get know and more loving creature who's Honor af His Majesty the precious subtance of the Prophet Muhammad. Features :
Toko Tani Indonesia
Layak Anak
Pastie YKPN
SiHaTi
SiHaTi Produksi
SeiMUSI Masyarakat
SiGapura